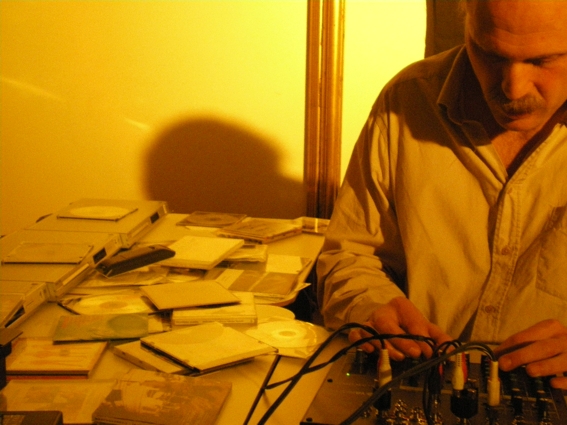 Since 2007 Michael Fischer works on radio-art pieces with authors in experimental poetry, replying, accompanying, interpreting their reading with soundscapes on
three cd players.
This setting was developed at Michael Fischer's radio art series connex:context :
the production process is based on an improvisational approach live on air, bringing together samples of text and sound at the moment.
The same setting is also performed live, entiteled SprachKlang_Landschaften with up
to three authors f.i. at festival Literatur in Grün; projects together with Petra Ganglbauer 'Die Entfremdung fährt dazwischen ' for 'In Gesellschaft zur Gesellschaft II', with Peter Pessl at Forum Stadtpark or Literaturhaus Graz
together with Dieter Sperl: 'long seconds' - a preelaborated piece, produced for Ö1 Kunstradio ORF, performances with Dieter Sperl also at Literaturhaus Wien and Graz
or at «manuskripte» - symposium and literature festival for Alfred Kolleritsch, Kunsthaus Mürz.
A selection of SprachKlang_Landschaften was presented and discussed with
Michael Hammerschmid at sound barrier, Festival für Hörkunst im Raum.










SprachKlang_Landschaften with Dieter Sperl
presentation of his book
'Von hier aus. Diary Samples'
Literaturhaus Graz 2013














SprachKlang_Landschaften with Petra Ganglbauer
'Die Entfremdung fährt dazwischen'
In Gesellschaft zur Gesellschaft III
Salon Praterstraße Vienna 2011
















SprachKlang_Landschaften with
Petra Ganglbauer, Günter Vallaster and Katharina Tiwald
Literatur in Grün, Schloß Deutschkreutz 2009





















SprachKlang_Landschaften with Peter Pessl
presentation of his book 'Wiesenrom! Wiesenmein!' (Ritter Verlag, 2015) Forum Stadtpark























SprachKlang_Landschaften with Margret Kreidl
at D.K.T. series
Seestadt Aspern, Flederhaus
















SKL - sound/poetry/scpaes with Thomas Antonic presentation of his book 'Flackernde Felsbilder übler Nachtvögel' (Ritter Verlag, 2017)
Forum Stadtpark, Graz