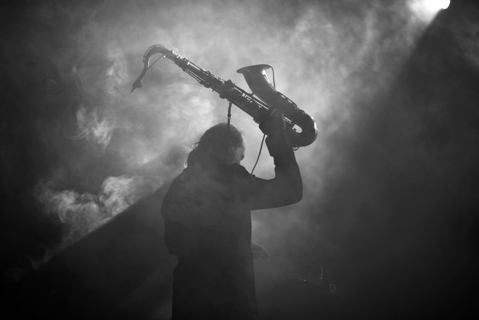 fluctuations Michael Fischer: feedback_saxophone
Franciszek Araszkiewicz: electronics











BAGG*FISH


Michael Fischer: feedback_saxophone
Marcos Baggiani: drums youtube: Sonic Circuits festival,
Washington D.C. 2013 release: bagg*fish
Trytone label,
Amsterdam 2013 review by Eyal Hareuveni - All About Jazz release: 7 feedback_saxophone drums duos
Audition Records,
online docu label 2012 baggfish.blogspot


SOLO
M. Fischer: feedback_saxophone
Muziekgebouw an't IJ Foyerdek 1
Amsterdam 2014












SOLO
M. Fischer: feedback_saxophone
Idle Chatter Music series
Manchester 2016













feedback*X
M. Fischer: feedback_saxophone
Peter Koger: digital video feedback
Salotto Trieste, Trieste 2014

watch long version















Pi and Sanae: dance
Ken Okami: noise-light
M. Fischer: feedback_saxophone
Japan tour, Urbanguild, Kyoto 2010












hot air
M. Fischer: feedback_saxophone
Albert Mayr aka Jonny Hawaii: drum-computer, amplified springs
fluc, Vienna 2012

listen 'hot air' @ fluc 2012






Exploring the sound of speech in various musical textures and their structural implications, connecting Michael Fischer's research on the overtone behaviour of the saxophone and extended techniques on sound production, turned his interest to the unstable electro-acoustic phenomenon feedback in 1999, so he started to research on this cosmos of sound and its unpredictable paths. Since then it is an ongoing process to develope the analog, no-effect feedback_saxophone, a broad range of used techniques: micro finger-movement, balancing the feedback by analysing the environmental resonance, adjusting distances by active movement, catching, fixing or let go, voice implication, percussive manipulating.
The first document on this process, cd 'solos' 2002, was very positively reviewed by The Wire magazine. Since then the feedback_saxophone was performed at festivals and venues throughout Europe, Japan, the USA, Canada and Beirut/Lebanon. It was the focus of a three weeks' tour in Japan with 12 concerts within diverse settings and interdisciplinary constellations. 2015 it was part of an artist-in-residency at ZKM - Zentrum für Kunst und Medientechnologie Karlsruhe/GER and performed at the ZKM festival Globale, part of a work-presentation at STEIM Amsterdam, at a M.F.-portrait at Künstlerhaus Wien a.m.o.





2020 release! NIGHT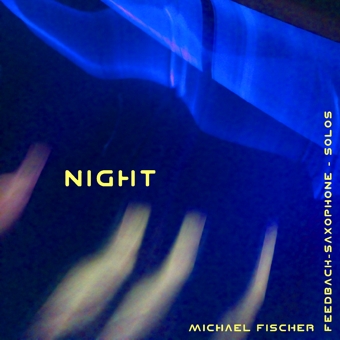 8 feedback-saxophone solos by Michael Fischer
released on the viennese smallforms lable 10/2020
available: click on the image

































short version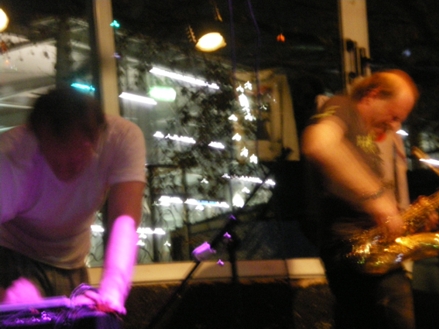 2001 release on feedback-saxophone
'SOLOS' mp3

Solos #1 (for Jimi Hendrix) 16:25
Solos #2 (for Wien) 9:55
Solos #3 (for Cecil Taylor) 15:24
Solos #4 (for Iannis Xenakis) 5:56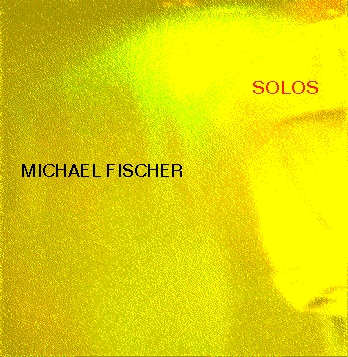 recorded October 2000 in Vienna/A
released at Extraplatte / 2002 EX 513-2

R .E .V .I..E .W..S

SOLOS
(Extraplatte EX CD 513-2)

reviewed in The Wire Adventures in Modern Music 226, Dec. 2002, London
by John Cratchley
In his explorations of amplified saxophone, Austrian player Michael Fischer has come to favour sonority and texture over structure. These ten solo pieces for tenor and soprano don't dispense with form, however - you might describe them as freeform abstractions of shifting temperament. The pieces break into four seperate solo suites:"Solos #1" comprising two tracks (for Jimi Hendrix), the single track of "Solos #2" (for Wien), the four making up "Solos #3" (for Cecil Taylor), and another four for "Solos #4" (for Iannis Xenakis). "Solos #1" and "Solos #4" are played on amplified tenorsaxophone, allowing Fischer to bring in feedback as an integral component in the sound structure. Not surprisingly the opening solos dedicated to Hendrix are the most visceral and angular. Working with the full gamut of volume, from overblown shrieks to almost silent, breathless sighs, he explores in minute detail the sonic possibilities at his disposal. Where structure is less emphasised, Fischer gets the chance to explore the physical qualities of his instrument. At times, notes sound strangulated and purposely inhibited through lack of air supply, alternated with their overblown opposite. Similarly, he will move breath with grace and languor, contrasted elsewhere with tougher, sinewy contortions. Pitch also shifts continously leaving the listener with very few (and deliberately so) points of harmonic reference. Strangely, this does not render the music harsh or fractured. Instead, it sets up a dynamic progression based on an appreciation of texture rather than form. His interest in electronic music is evident in the dedication to Iannis Xenakis, but that doesn't make him overtly referential or too reverential. Electronics are a source of inspiration more than an active component, and his music is all the more intriguing for it. Amplification aside, he avoids adding electronic extensions to his instrument, yet his music carries hints of the way laptop players "vitalise sound". His sleevenotes also talk of "multiple was to create meaning" and his music personifies the fluidity of this approach. He builds sounds with painstaking detail, only to knock them down and come at them from a different angle in an attempt to capture nuances of mood - the rippling continuum of momentum rather than the architectural certainty of stasis



reviewed in THE CADENCE MAGAZINE March 2003, London
by Michael Rosenstein
Austrian reed player Michael Fischer is restlessly exploring the worlds of free Jazz, spontaneous improvisation, and electroacoustics in the company of musicians like William Parker, Burton Greene, Phil Durrant. These releases on the Viennese Extraplatte label showcase two sides of this intriguing player. Solos is a strident outing where Fischer pushes at the dynamic and textural extremes of the saxophone. Augmenting a full command of extended techniques with amplification and a sensibility shaped as much by the electronic music of Iannis Xenakis as by the vocabulary of free improvisation, he dives in with fusillades that are jarring in their contrast. Utilizing amplification and feedback, the first two pieces are shredded homages to Jimi Hendrix. Molten barrages of super-saturated overblowing are sprayed through intense amplification, distorting the rapid-fire lines and heated blasts into acid-burned feedback frenzy and flurries that snap like jolting, overoaded circuits. Jumping to the other end of the sonic spectrum, "Solos #2 (for Wien)" examines the micro-gestures of glitched overtones and sputtering, percussive pad popping. Yet even here, he aligns himself closely to the palette of electronics, with static bursts and oscillating waves of sympathetic harmonics. A series of shorter pieces are similar in approach to John Butcher's solo playing. Like Butcher, Fischer builds his solos out of the elemental components of brass, breath, reed, and keypads. While he brings a more expressionist bent to the approach, these pieces have a somewhat diffused impact, lacking Butcher's masterful conceptual command and clarity. The final series of pieces again utilize amplification and feedback, but here (with dedication to Xenakis) they ply contrasts in textures and densities in a more austere manner. The results sometimes sway more toward process and concept, struggling to sustain their sense of form over the course of the set.