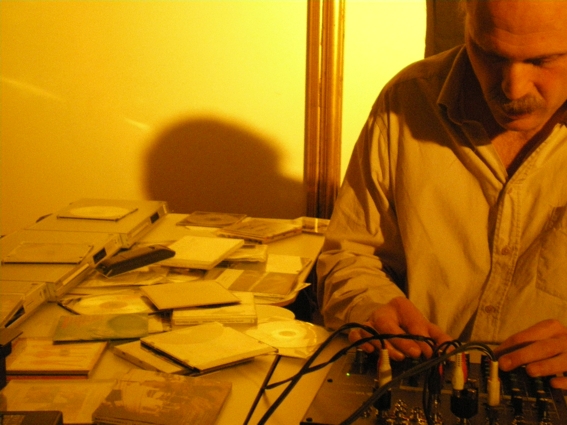 Since 2005 Michael Fischer works on radio-art pieces with authors in experimental poetry, replying, affirming, contrasting, accompanying, interpreting their reading with soundscapes on three cd players.
This setting was developed at Michael Fischer's radio art series connex:context :
the production process is based on an improvisational approach live on air, bringing together samples of text and sound at the moment.
The same setting is also performed live, entiteled SprachKlang_Landschaften f.i. project together with Petra Ganglbauer 'Die Entfremdung fährt dazwischen ' for 'In Gesellschaft zur Gesellschaft II', with Peter Pessl at Forum Stadtpark or Literaturhaus Graz together with Dieter Sperl: 'long seconds' - a preelaborated piece, produced for Ö1 Kunstradio ORF, performances with Dieter Sperl also at Literaturhaus Wien and Graz, Künstlerhaus 1050 or at «manuskripte» - symposium and literature festival for Alfred Kolleritsch, Kunsthaus Mürz ot at festival Literatur in Grün with three authors: Petra Ganglbauer, Katharina Tiwald and Günther Vallaster.
A selection of SprachKlang_Landschaften was presented and discussed with
Michael Hammerschmid at sound barrier, Festival für Hörkunst im Raum.

Authors: Petra Ganglbauer, Gerhard Jaschke, Peter Waugh, Peter Pessl, Magdalena
Knapp-Menzel, Semier Insayif, Dieter Sperl, Ilse Kilic & Fritz Widhalm, Valeri
Scherstjanoi, Julian Schutting, Ferdinand Schmatz, Birgit Schwaner, Sophie Reyer,
Rolf Schwendter, Margret Kreidl, Lucas Cejpek, Erika Kronabitter, Lisa Spalt,
Christine Huber, Konrad Prissnitz, Waltraud Haas, Susanne Toth, Thomas Antonic, Regina Hilber, Toni Kleinlercher, Karin Spielhofer, Jörg Zemmler, Natascha Gangl, Thomas Havlik, Klaus Haberl, Nikolaus Scheibner, Günter Vallaster, Christian Katt,
Janus Zeitstein, Wolfgang Helmhart, Marietta Böning, Stefan Alfare, Adelheid Dahimène(t), Karin Schöffauer(t).



SprachKlang_Landschaften with author Peter Pessl
presentation of his book 'Wiesenrom! Wiesenmein!' (Ritter Verlag, 2015) Forum Stadtpark, Graz






























SprachKlang_Landschaften with author Margret Kreidl
at D.K.T. series
Flederhaus, Seestadt Aspern, Wien 2017
















SKL - sound/poetry/scpaes with author Thomas Antonic presentation of his book 'Flackernde Felsbilder übler Nachtvögel' (Ritter Verlag, 2017)
Forum Stadtpark, Graz














SprachKlang_Landschaften with author Dieter Sperl
presentation of his book 'Von hier aus. Diary Samples'
Literaturhaus Graz 2013



'Long Seconds' with author Dieter Sperl
reading samples out of his text (45 sequences) 'wenn die landschaft aufhört'
radio art piece for Ö1 Kunstradio, ORF (Austrian Broadcasting Corporation) 2011
Kunstradio
















SprachKlang_Landschaften with author Petra Ganglbauer
'Die Entfremdung fährt dazwischen'
In Gesellschaft zur Gesellschaft III
Salon Praterstraße Vienna 2011



















SprachKlang_Landschaften with authors
Petra Ganglbauer, Günter Vallaster and Katharina Tiwald
Literatur in Grün, Schloß Deutschkreutz 2009